Ship from Taiwan to Malaysia

Shipping from TAIWAN to MALAYSIA
Ship for Me
---
GIM

world

provides international shipping service from Taiwan (Kaohsiung City) to Malaysia.
We help to ship and consolidate small parcels purchased from any Taiwan E-Commerce (
Rakuten台灣樂天市場購物網
,
ruten 露天拍賣
,
PChome
etc.) platforms, suppliers or factories and deliver right to your doorstep.

Prior to the establishment, GIMworld had extensive experience in import and export, transportation and local delivery and has about 20-years experience in this field since 1999.
Until today, we have handled more than
100,000
parcels
Using Taiwan Air Freight, you can ship all your small parcels directly from Taiwan to Malaysia.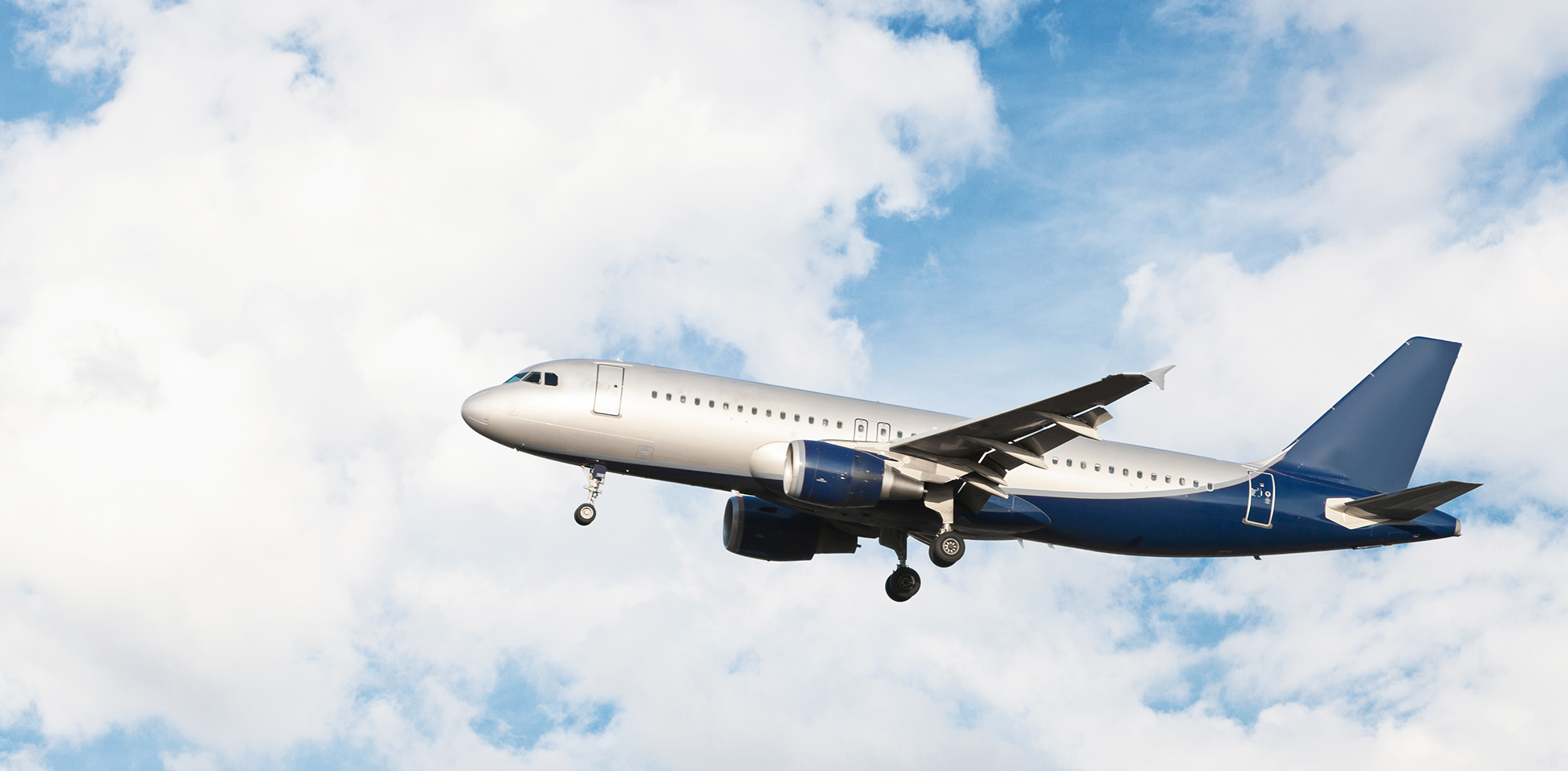 Air Shipping / Freight
Air Shipment method is the fastest route and you can get 2 (Normal and Sensitive Items) for the price of 1. For smaller items (1-30kg) or even larger shipment with size (120cm x 80cm x 80cm) where your priority is speed, we ship via air courier shipment to you or your customers' doorsteps. Normally it takes about 7-10 working days to West Malaysia.

Top 10 Taiwan E-Commerce Platforms
---
Taiwan Shipping to Malaysia Price
Taiwan Air shipment Normal & Sensitive Goods (West Malaysia)
Weight
5kg & Above
First 5kg
RM200.00/5kg
Continue 1kg
RM40.00/1kg
Round Up Unit
1kg
Duration
7-10 Working Days
Description
- Actual weight or volumetric, whichever is higher
- Shipping fees is calculated based on each parcel
- Maximum weight: Each parcel cannot exceed 30kg
- Maximum size: Each parcel cannot exceed 120cm x 120cm x 120cm
*Table listed for illustration purposes.
*Price subject to change.
Price as of 14/12/2020
Check Latest Pricing
---
How to Calculate Shipping Cost from Taiwan to Malaysia?
Air Shipping [Small Parcel]
Shipping Method
Air Shipping
Minimum Charges
Price calculated based on "kg".
*Example
Actual Weight
10kg
Volumetric Weight:

(Length X Width X Height)cm
(40 x 25 x 43)cm / 5,000
= 8.6kg = 9kg
Shipping Fees
Refer to the pricing table above as example.

Weight Calculation = Actual Weight or Volumetric Weight, whichever is higher.
First shipping charge for 5 kg is RM 200, continue 1kg = RM 40
= RM 200 + (RM 40 X 5kg)= RM 200 + RM 200= RM 400
---
Note
Calculation Method

Weight Calculation = Actual weight or volumetric weight, whichever is higher.
Volumetric Calculation = Length(cm) x Width(cm) x Height(cm) / 6,000 = xxx kg
Shipping Fees is calculated based on single 1 parcel.
Single 1 Parcel – min quantity is 5 kg & above, Max 30kg, size & 120cm, No combine parcel.

Weight / Volumetric Weight

Maximum Weight cannot exceed 30kg
Maximum Size: Each parcel cannot exceed 120cm x 120cm x 120cm
Parcel Size Limit: 5 - 30kg

ETA

7-10 Working Days: Parcel tracking only available for distance from Malaysia to doorstep.
Shipping day falls on every Friday only (Kindly arrange suppliers to send parcels to warehouse before Friday).
ETA may be delayed due to the following reasons:

Bad weather conditions
Customs clearance process
Outskirts area

Shipping Items

Not Accepted:

Perfume / Fragrances, alcohol, pressure spray, battery or lithium products.




Accepted:

Beauty products, cosmetics, albums, food & healthcare products etc.

Parcel Insurance
For small valuable items, recommended to subscribe parcel insurance protection.
Contact customer service for insurance inquiry:
Add WeChat: GIMworld, 016-4800770
Note

It is recommended to subscribe for add-on parcel protection services especially for fragile items, such as kitchen basin, bathtubs, lighting & order breakable items. While transporting your goods, your packages may go through bumpy rides from events like turbulence.

Thus, having extra padding is recommended for fragile items. We recommend using bubble wraps, wooden crate. This will prevent your goods from bouncing around within the packing / package getting deformed during shipping.

You can learn more about the "Add on Protection Services" by visiting the "Terms of Service" on our website.
Delivery Guides
Before purchasing with sellers, you will need to register at GIMworld website and get a marking name and warehouse address and give to sellers this information.
After purchasing your items, when seller starts sending parcels, go to [Arrange Shipment] to fill in parcels details at GIMworld website.
Go to [Delivery Order] to complete the parcel details and submit for consolidation.
After 4 hours, go to [Delivery Order] check the shipping fees and make payment.
It is expected that goods will be received within 7-10 working days (West Malaysia) after the departure date.
Track parcels delivery status at [Delivery Order] > [Order Tracking].
---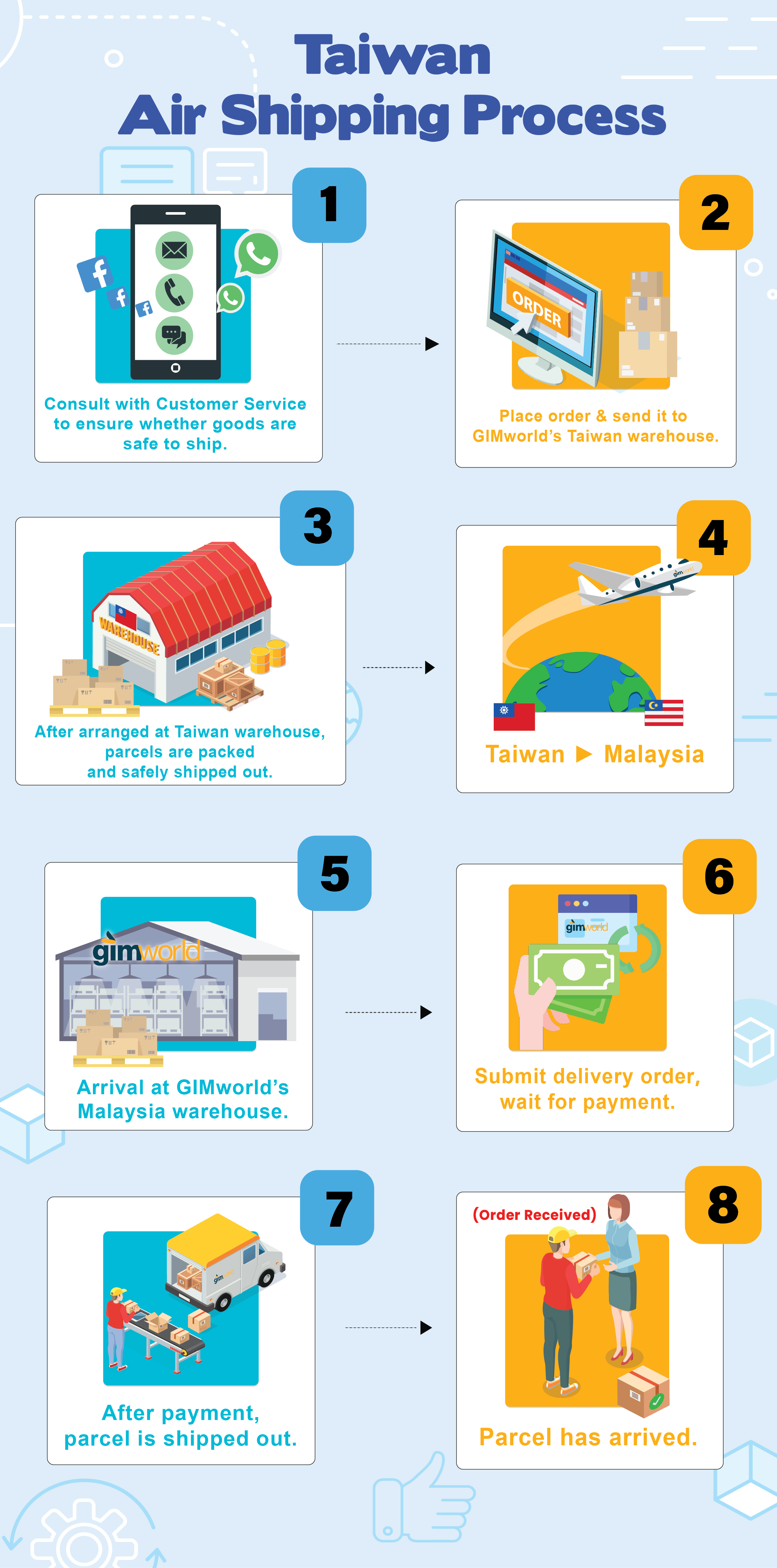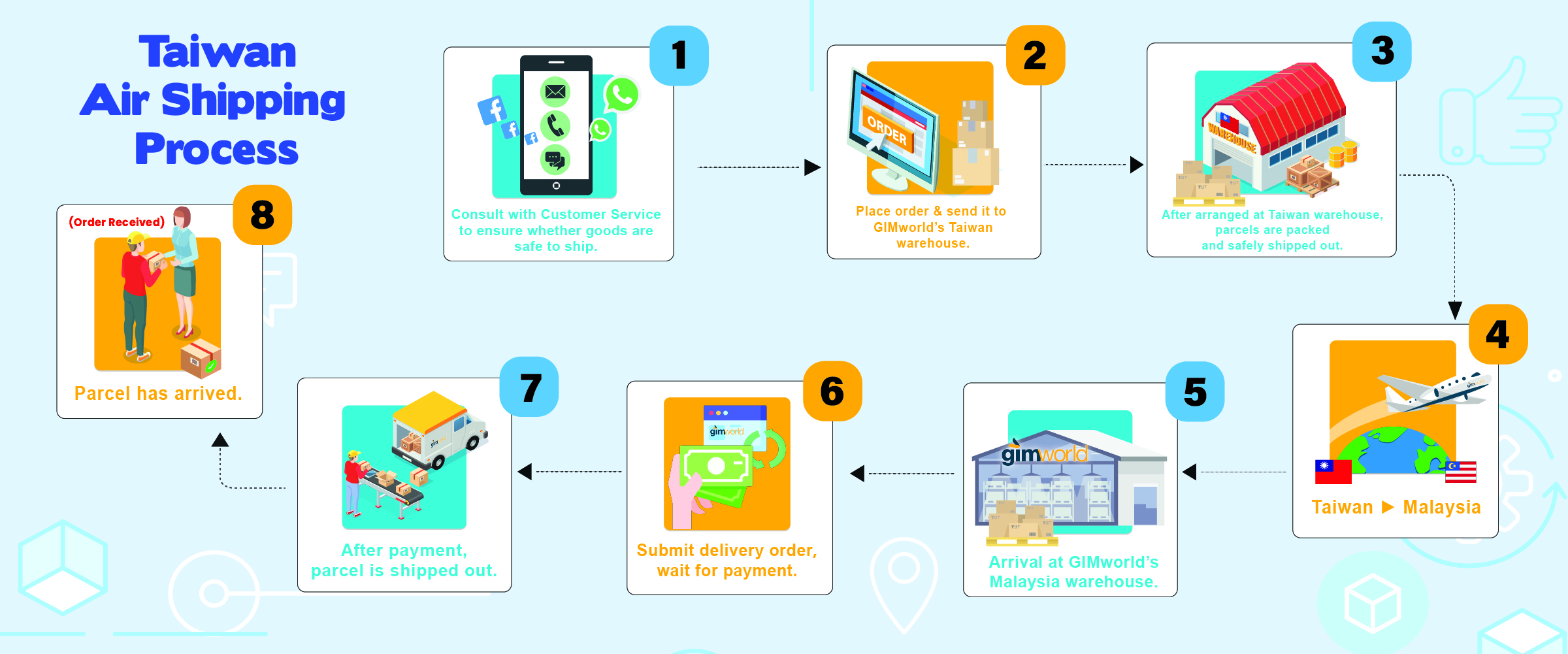 ---
Start shipping with GIMworld