Thailand Shipping to Malaysia

Shipping from THAILAND to MALAYSIA
Ship for Me
---
GIM

world

offers Thailand to Malaysia cross border truck and sea freight shipping service,
door to door delivery.

All goods needed to be sent to our Thailand warehouse first before it can be sent out to Malaysia. Once your parcels arrived to our Thailand warehouse, GIMworld will consolidate your goods and ship them from Thailand to Malaysia.
Top 10 Thailand E-Commerce Platforms
Facing overseas payment problem?
Contact us, we can guide you through the payment.
---
Top Famous Shopping Websites for Fashion and Accessories
---
How to Buy from Thailand Websites?
How to Send Parcels to GIMworld's Thailand Warehouse?
Example: Lazada, Thailand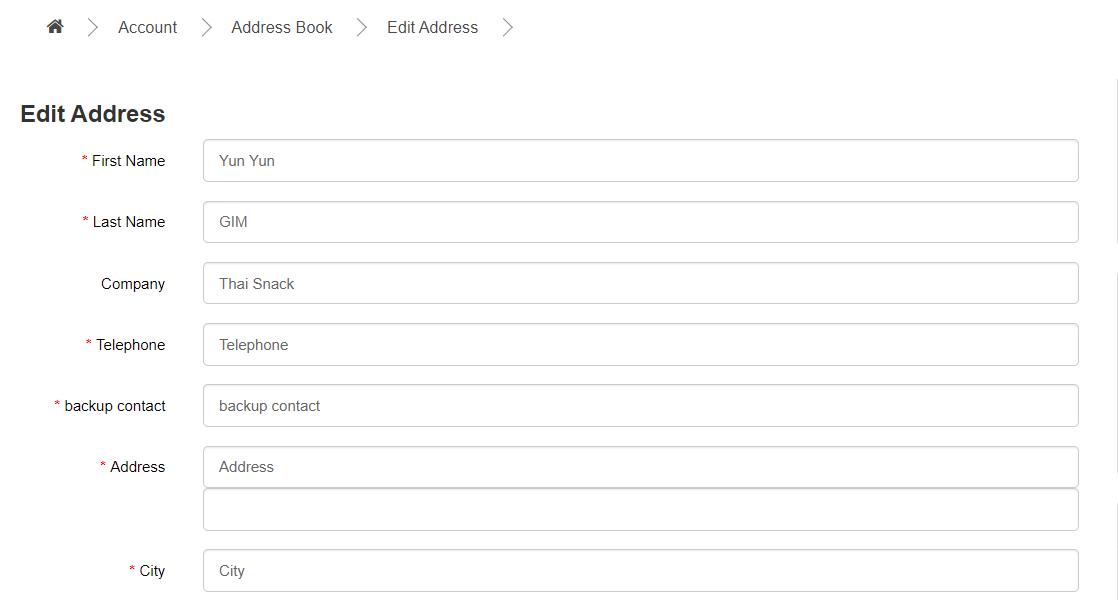 Step 1
Register at Lazada Thailand.

Go to Settings, fill in receiver name (GIMworld marking name) and Thailand warehouse address.

Step 2
Send GIMworld's warehouse address and marking name to Thailand sellers.

Marking Name:
AJY/ gimworld username
Thailand Warehouse Address: 115/207, SOI EAKKACHAI 93/1, EAKKACHAI ROAD, BANG BON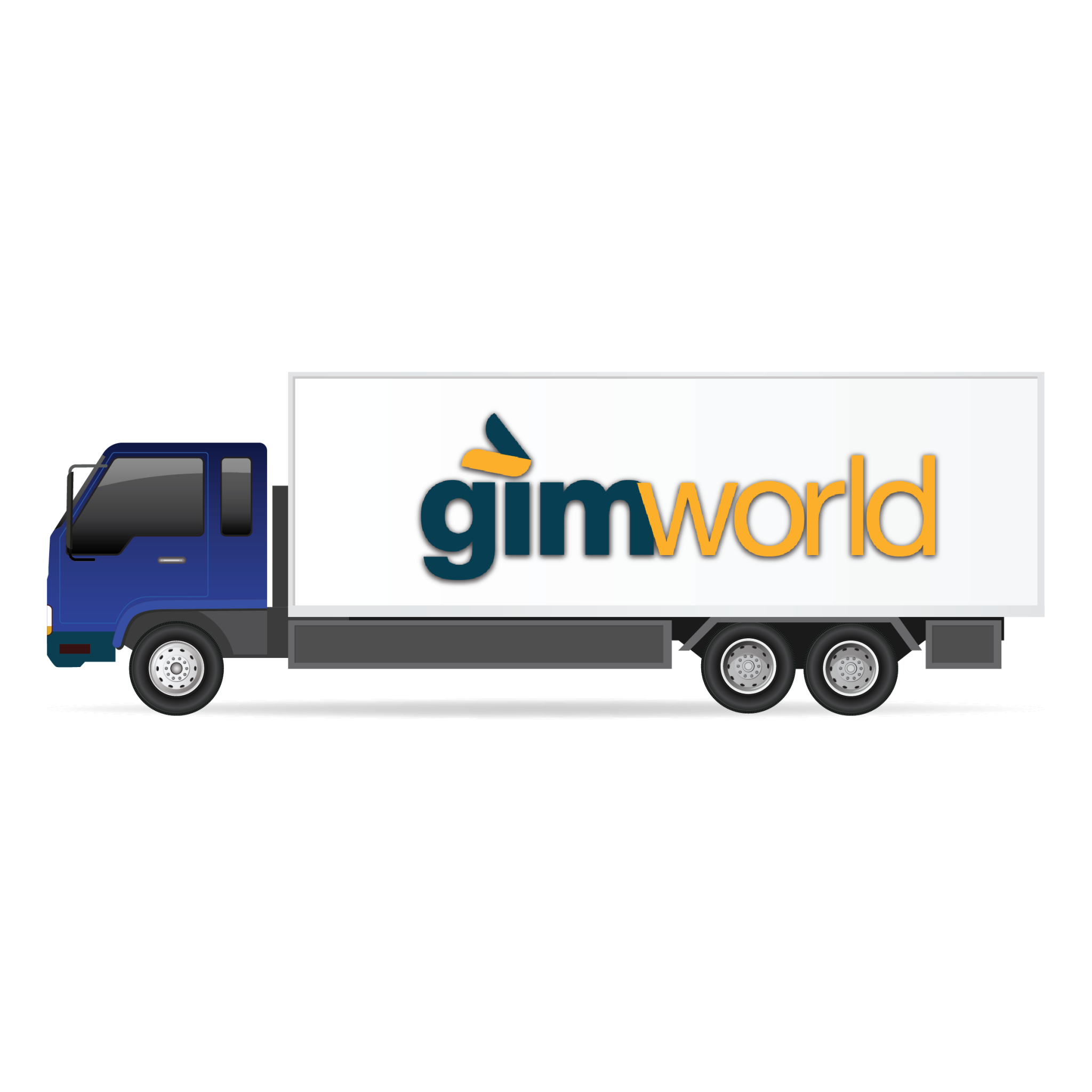 Step 3
After purchasing your items, get tracking number from your seller.

Go to GIMworld's website, click [ ARRANGE SHIPMENT ], to fill in parcel details and click submit.
---
GIM

world

offers two Thailand Shipping Methods to Malaysia.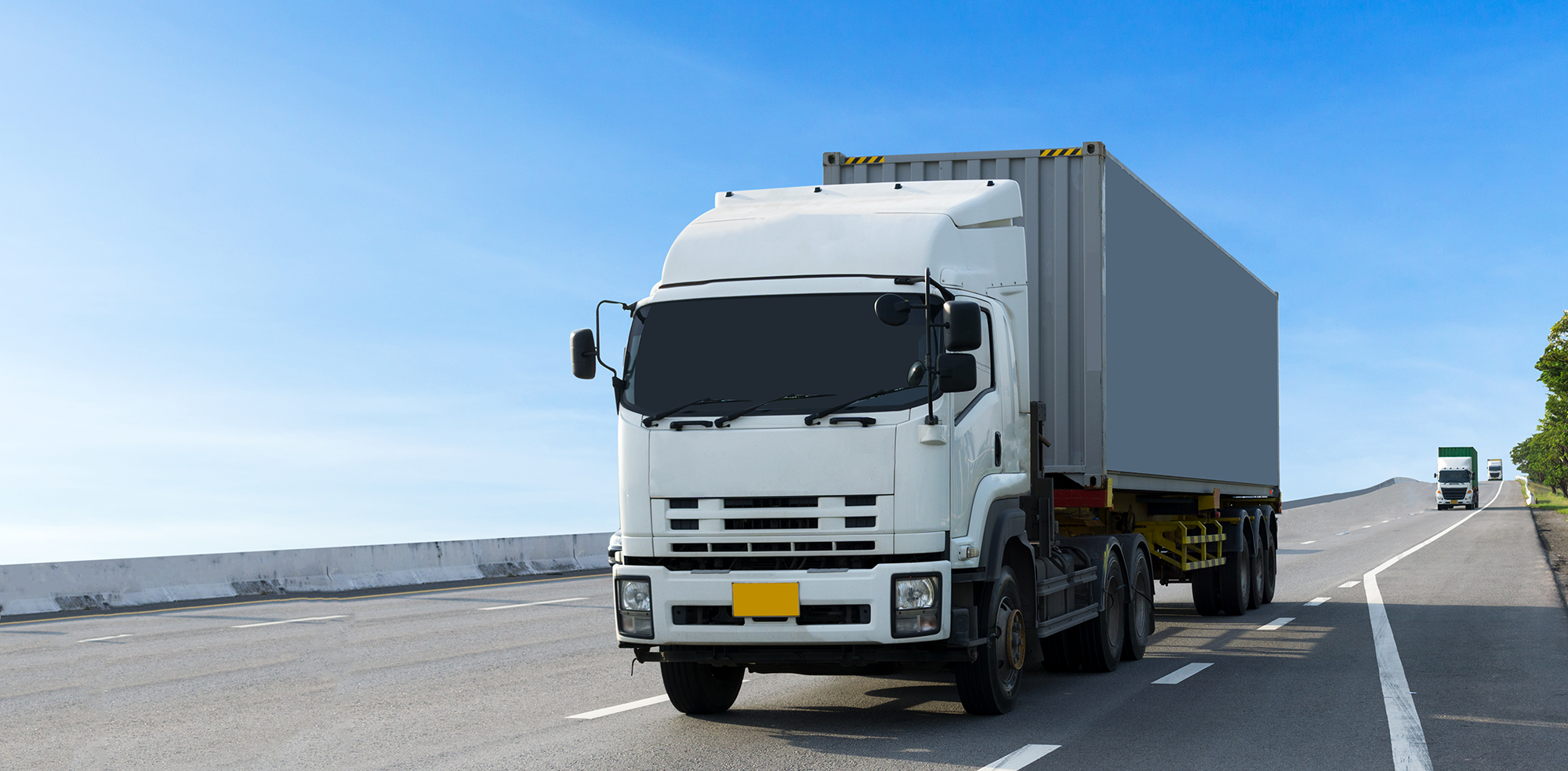 Land Shipping (Thailand - Malaysia)
Cross boarder trucking method is the most safest transport method, mostly for smaller shipments where speed equals priority. How long does shipping takes from Thailand to Malaysia? Normally it takes about 7-10 working days to West Malaysia and about estimated 30+ working days to East Malaysia.
Sea Freight (Thailand - Malaysia)
Sea Freight method is meant for larger shipments such as shipping in pallets or containers on an LCL (Less Container Load Basis) or FCL (Full Container Load Basis). Larger sized items which is more than 30 kg we would recommend them to opt for sea freight method in order to enjoy cheaper shipping rate as compared to air freight.
Thailand Shipping to Malaysia Price
Thailand(Bangkok)-West Malaysia Normal Goods (West Malaysia)
M3
0.1m3
Every 0.1m3
RM75.00/0.1m3
0.2m3
Every 0.2m3
RM110.00/0.2m3
0.3-0.9m3
First 0.3m3
RM145.00/0.3m3
Continue 0.1m3
RM45.00/0.1m3
1m3 & Above
Every 0.1m3
RM43.00/0.1m3
Round Up Unit
0.1m3
0.1m3 can contain up to 30kg
Duration
7-10 Working Days
Description
Minimum charges = RM75.00
Thailand- West Malaysia (small parcel) Normal & Sensitive Goods (West Malaysia)
Weight
2kg & Above
First 2kg
RM20.00/2kg
Continue 1kg
RM4.50/1kg
Round Up Unit
1kg
Duration
7-10 Working Days
Description
Actual weight or volumetric, whichever is higher.








*Table listed for illustration purposes.
*Price subject to change.
Price as of 14/12/2020
Check Latest Pricing
---
How to Calculate Shipping Cost from Thailand to Malaysia?
Shipping Method
Small Parcel
Minimum Charges
Actual weight or volumetric, whichever is higher.
*Example
Actual Weight
10kg
Volumetric Weight:
(Length X Width X Height) cm
(40 x 25 x 40)cm / 6,000 = 6.66kg = 7kg
Shipping Fees
Refer to the above pricing table, West Malaysia price
First 2kg= RM 20, Subsequent RM 4.50/kg
Shipping Fees: RM 20 + (8kg X RM 4.50) = RM 56
Big Parcel
Shipping Method
Big Parcel
Minimum Charges
Measured by m3
*Example
Actual Weight
50kg
Volumetric Weight:
(Length X Width X Height) cm
(120 x 65 x 88) cm / 1,000,000 = 0.69m3 = 0.7m3 (Round up)
Shipping Fees
Refer to the above pricing table, West Malaysia price

First 0.3m3 = RM 145, Subsequent 0.1m3 = RM 45
Shipping Fees: RM 145 + (0.4m3 x RM 45) = RM 163
Note
Calculation Method

Small Parcel = Actual weight or volumetric, whichever is higher.
Big Parcel = Measured by m3. 1m3 can contain 300kg items, if weight exceeded, overweight will be charged.
Overweight Calculation Method: actual weight / 300 = m3 (final charge).
Example: 1m3= 440kg, exceeded weight, use 440/300 = 1.47m3 (charged).

Exceeded Weight
ETA will be delayed subject to the weather's factors,
customs clearance process turnaround time, outskirt area.
ETA
ETA sometime will be affected by the custom clearance process and outskirt area (1-2 day(s)).
Parcel Insurance
Suggest to buy parcel insurance protection for those valuable things.
Contact customer service for insurance inquiry:
Add WeChat: GIMworld, 016-4800770
Note

It is recommended to subscribe for add-on parcel protection services especially for fragile items, such as kitchen basin, bathtubs, lighting & order breakable items. While transporting your goods, your packages may go through bumpy rides from events like turbulence.

Thus, having extra padding is recommended for fragile items. We recommend using bubble wraps, wooden crate. This will prevent your goods from bouncing around within the packing / package getting deformed during shipping.

You can learn more about the "Add on Protection Services" by visiting the "Terms of Service" on our website.
---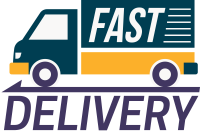 Fast Delivery
West M'sia (7-10 days), East M'sia (30+ working days).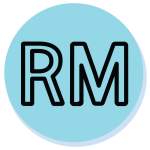 Shipping Fees in MYR
No Exchange Rate / Fees involved!

Consolidate Parcels
Consolidate all your parcels from different sellers.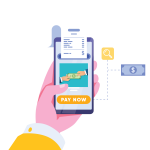 Pay on Behalf Service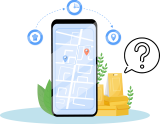 Parcel Tracking System
Track your parcel arrival.

Parcel Information
Provide size & weight of parcel details, easier to arrange combine parcels to save more.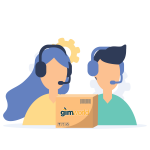 FREE Shipping consultation service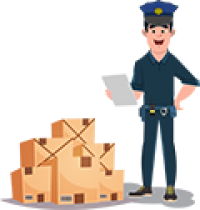 Customs Clearance Service

No processing fees, no service charges
---
Delivery Guides
Before purchasing with sellers, you will need to register at GIMworld website and get a marking name and warehouse address and give to sellers this information.
After purchasing your items, when seller starts sending parcels, go to [Arrange Shipment] to fill in parcels details at GIMworld website.
Go to [Delivery Order] to complete the parcel details and submit for consolidation.
After 4 hours, go to [Delivery Order] check the shipping fees and make payment.
It is expected that goods will be received within 7-10 working days (West Malaysia) and 30++ working days (East Malaysia) after the departure date.
Track parcels delivery status at [Delivery Order] > [Order Tracking].
---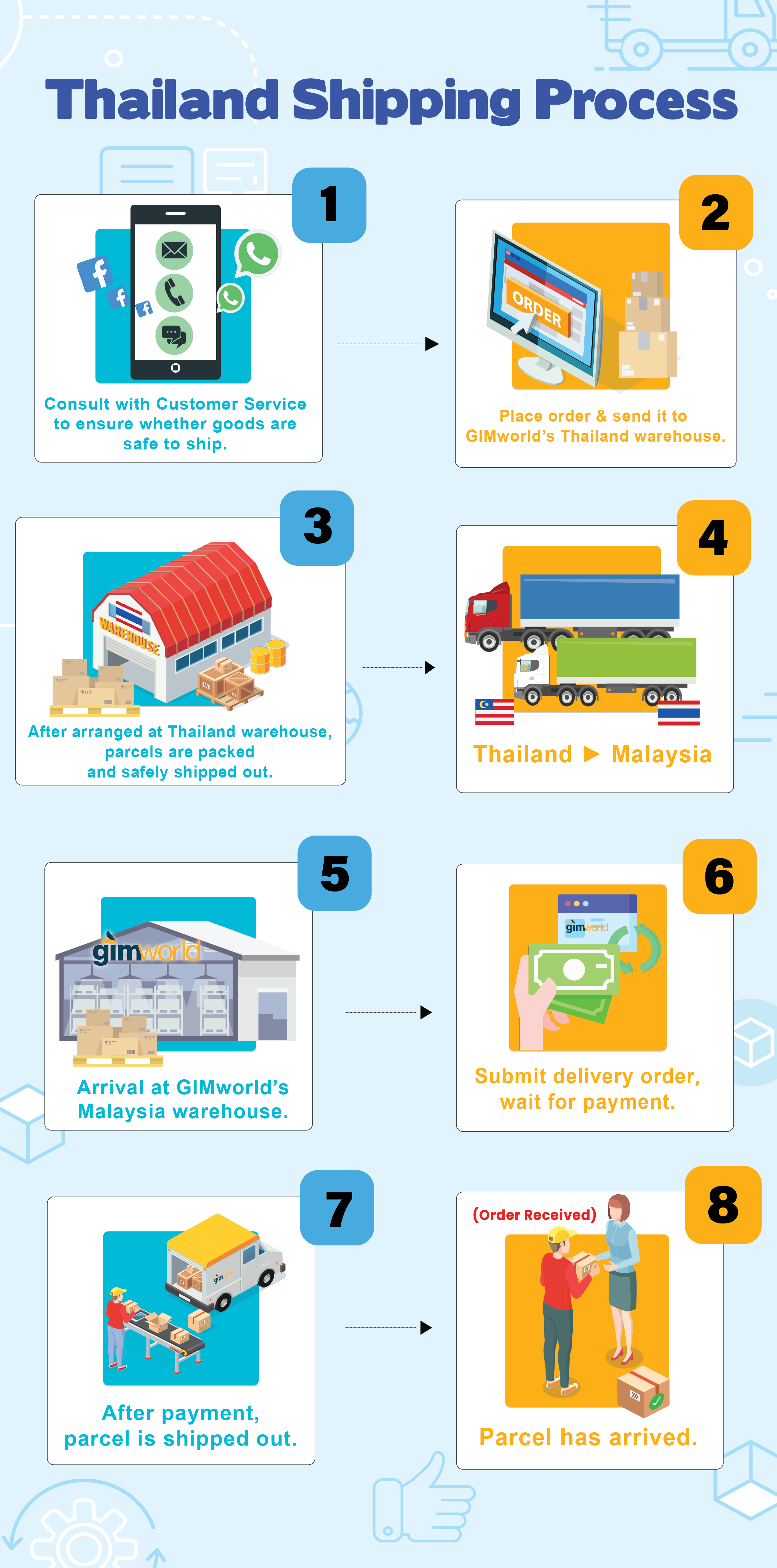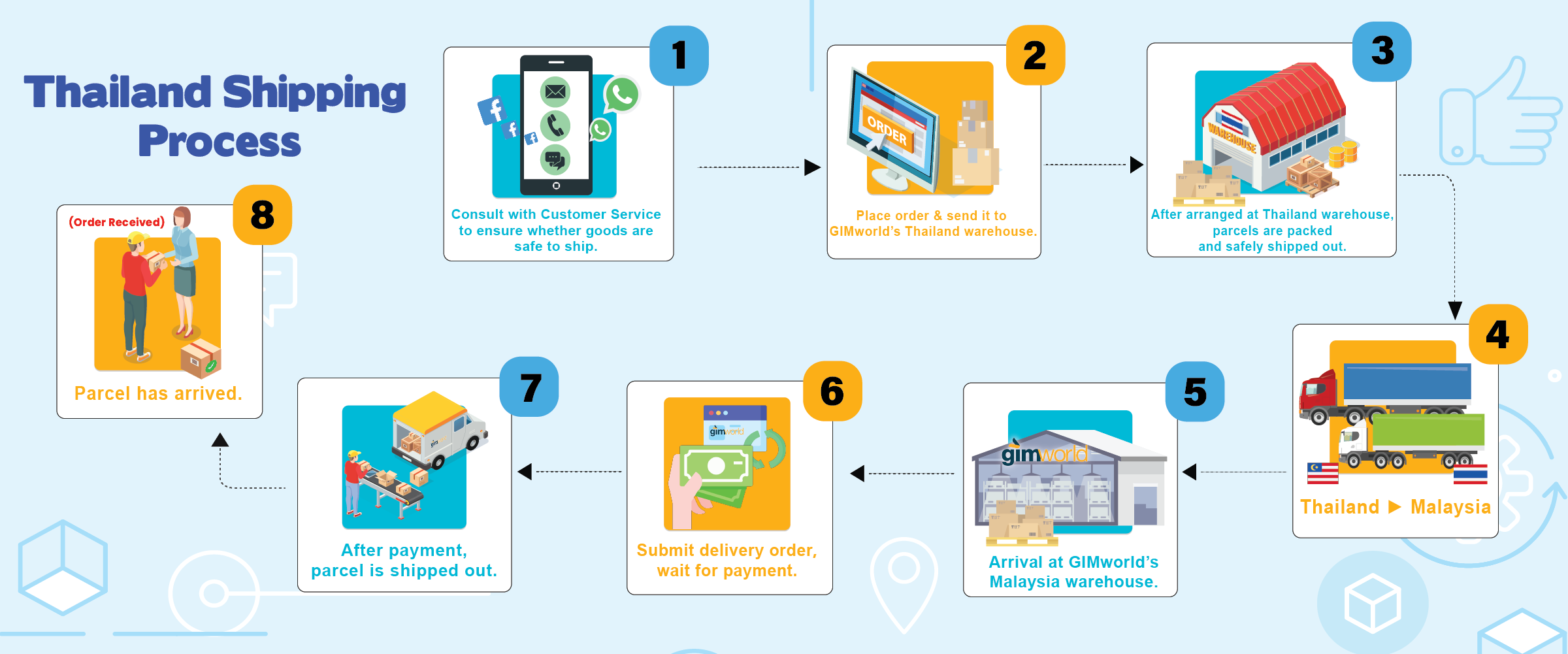 ---
Start your Thailand shipping with GIMworld
Register Now