Frequently Asked Questions
FAQ
1.0 General Guidelines
How to Register?
The registration is divided into two steps: "
Submit Information
" and "
Activate Username by E-Mail
". The whole process only takes around 2 minutes to complete.
Go to the registration page and enter an email address that you would like to use to activate your account.
Set a password.
Read the "Privacy Agreement" carefully, agree to the terms, and click the "Submit Registration" button.
Complete the registration.
You can also register and bind your account via Facebook.
---
Step 1: Click on the Register/Login at the "
heading navigation

" top right corner.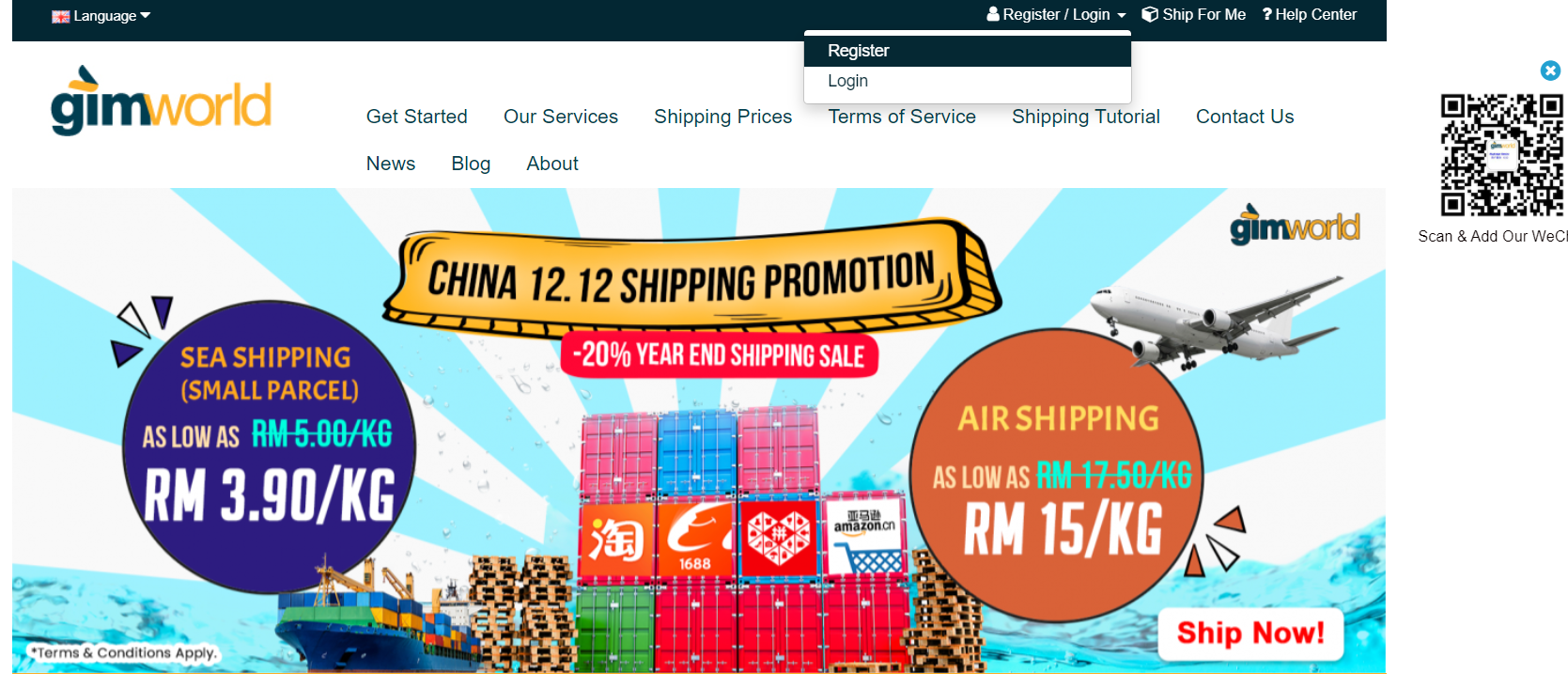 OR you can register when you are in the Login page.
Step 2: Fill in your Personal Details
(REQUIRED: IC Number, Username, First Name, Last Name, Email, Telephone etc).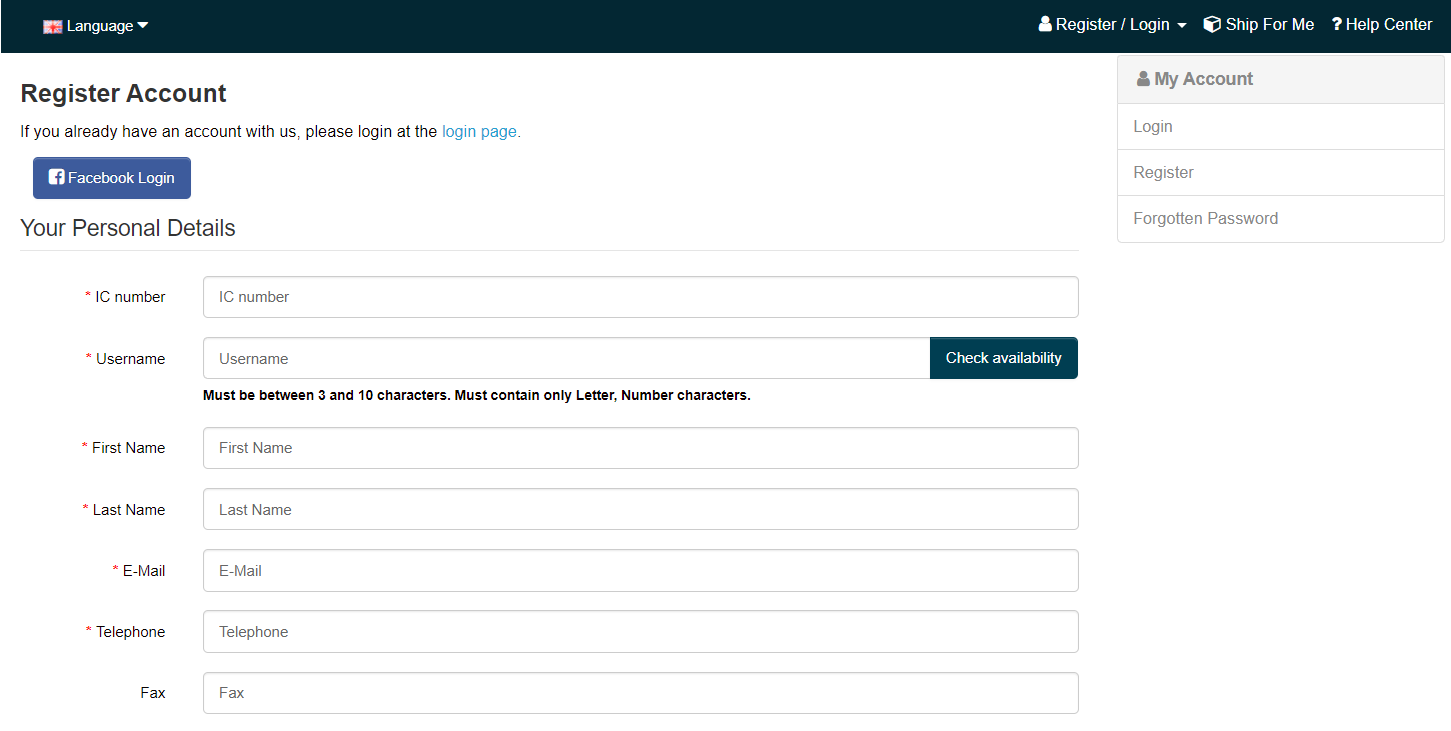 Step 3: Fill in your desired "Password".

Step 4: Subscribed to Newsletter.
Click "YES" to receive newsletter to your email. Otherwise, click "NO".

Step 5: Before clicking "Submit", read the "Privacy Policy".
Read Privacy Policy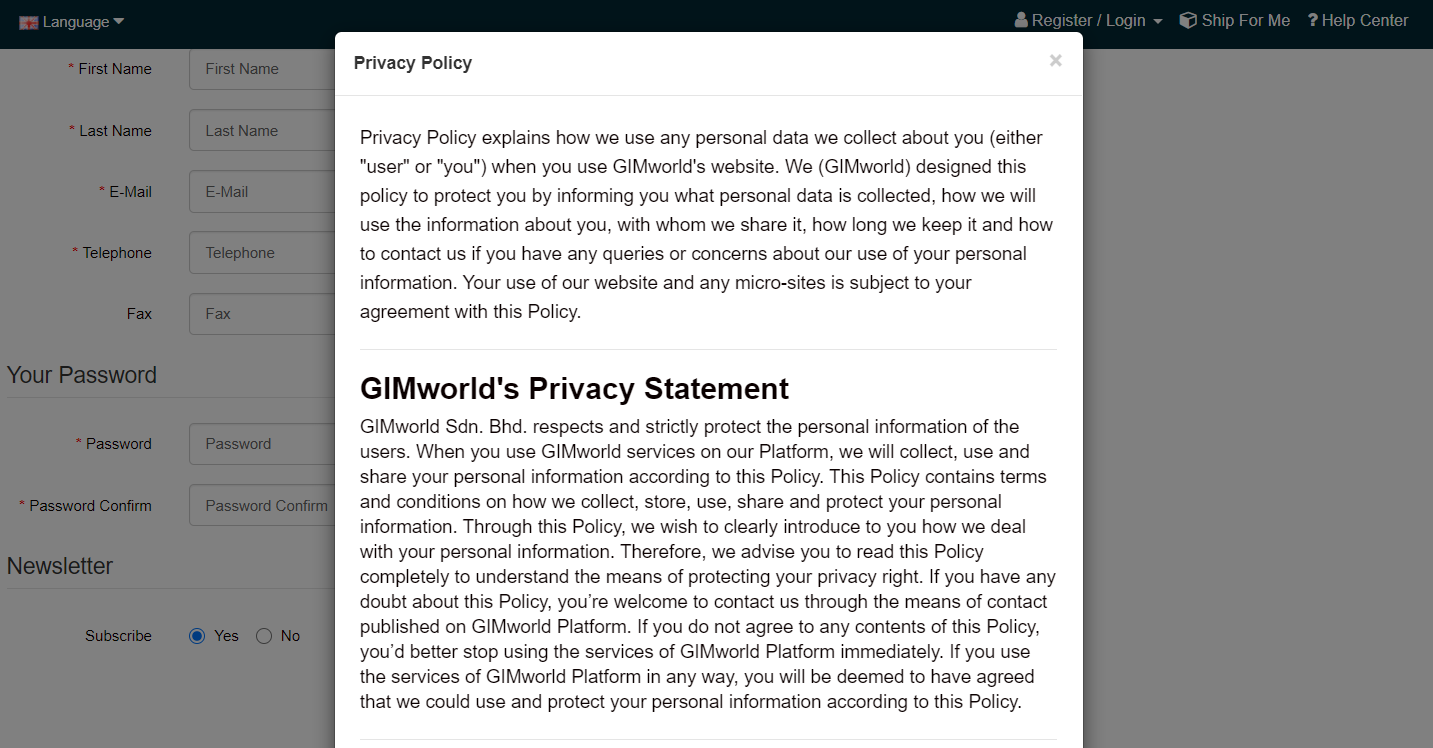 Step 6: Check your email after you register to ensure that you are REGISTERED with GIMworld.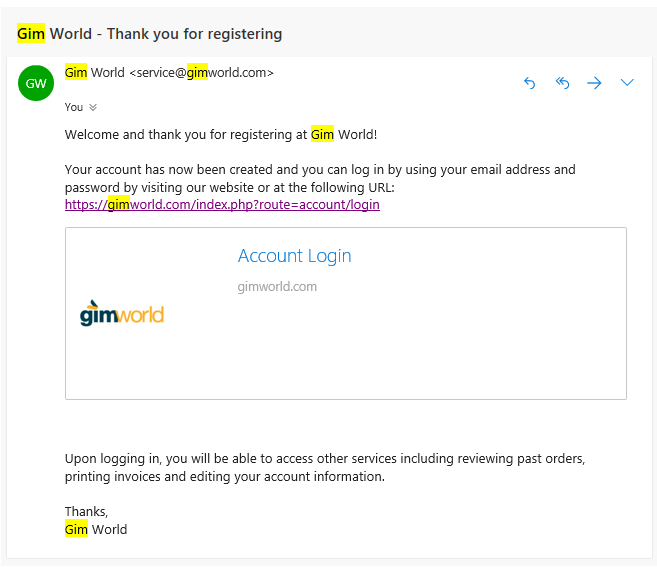 Step 7: After clicking the login link from your email, you will be re-directed to the login page.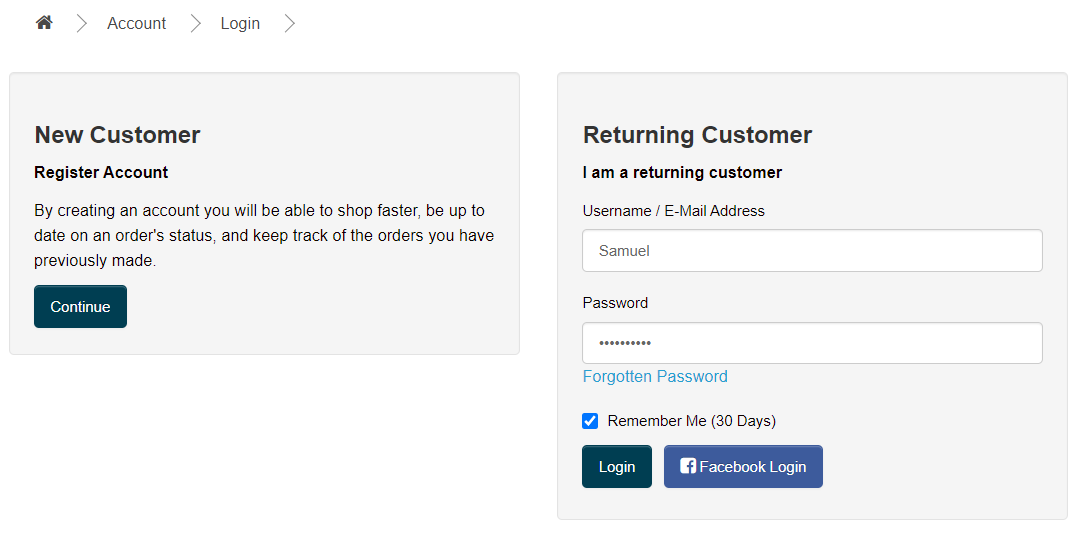 Step 8: After logging in, you can start "Ship For Me".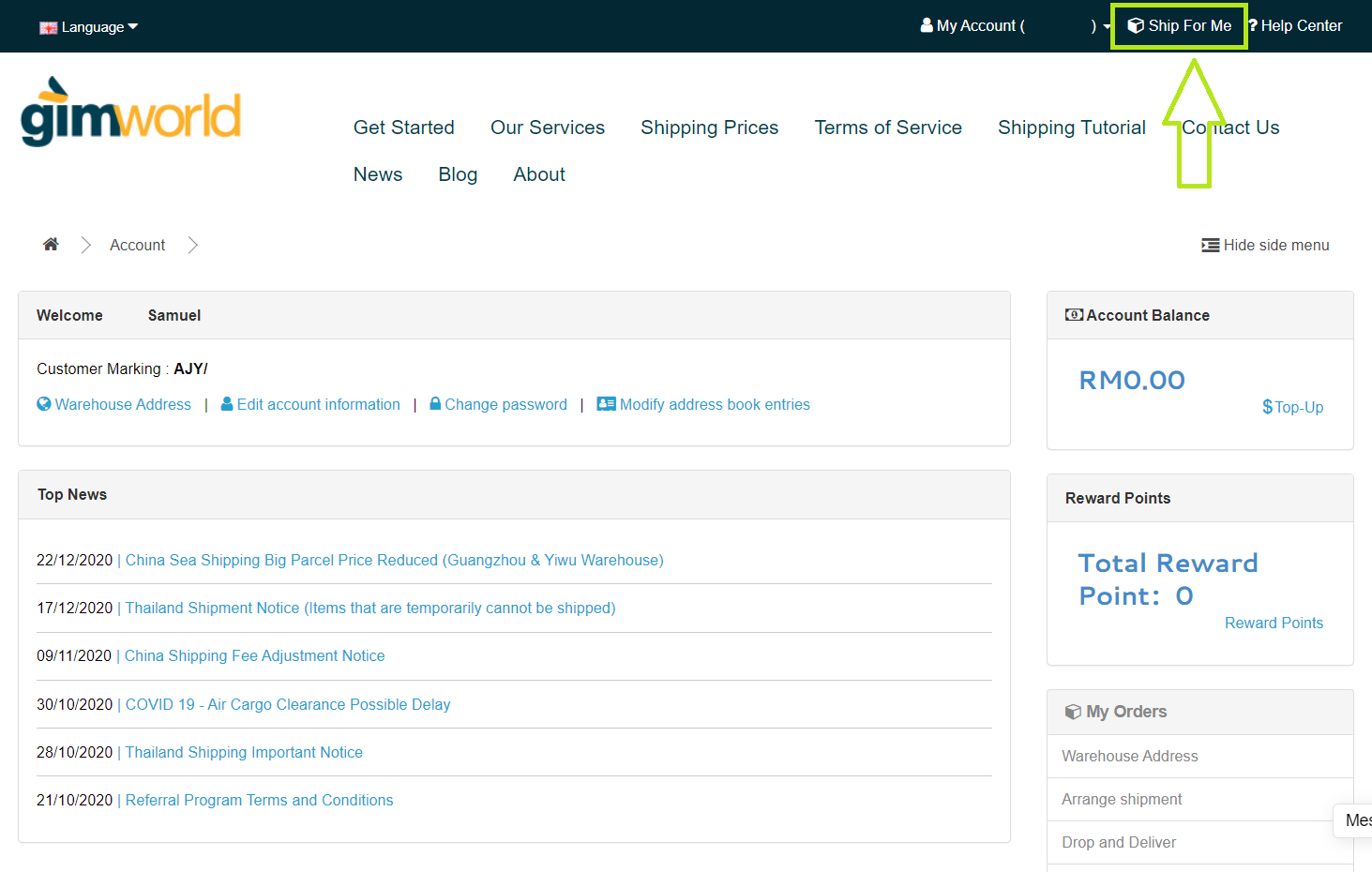 ---
* Note:
If the parcel details do not match with information provided by the customer (e.g. wrong amount of items), further confirmation from the customer would be needed before it can be allowed into GIMworld's warehouse. For any inquiries, please contact customer service (016-480 0770)
Generating a Shipping Order

When you have completed your purchase from a local seller, please submit your product in "Transportation". We offer two (2) ways to submit shipments:

Download the "Excel Form", fill in the package information and upload it to our website.
Fill in the details of the package that you have purchased from the seller into the input box. Click the "Submit" button when you are done. You are required to fill in the information as follow (* = Required).

* Select the currency for the total price of the item (¥ / RM / $). (Note: Currently, we are only trading in Ringgit Malaysia [RM]).
* Product Name - Please ensure that the item names are the same as the names stated in the COMMERCIAL INVOICE.
Example: If there are multiple items in a single express consignment note, please list out all product names as shown below:


- Product Name:Clothes, Pants,Belts,Stockings.

Seller - Seller name or store name.
* Express Company - If the logistics company you specify is not listed in the options, please select "Other".
* Express No. - The courier number for each parcel must be unique (only one entry can be entered) and is according to each delivery trip to GIMworld warehouse.
* Quantity - Please fill in the quantity of goods in each package / box (Note: not the number of packages).
* Total Price - Total price for entire package as declared.
Product Remarks - Example: Three bags of clothes, two bags of pants, one case of stockings, one bag of belts.
Select the country warehouse you would like to ship to.

After filling in, select the desired item and press the Submit All Packages button to enter the confirmation order. The order has been generated and the customer can click on the "View My Product Order" to see the submitted order. If you need to continue to submit the waybill, you can go to "My Account", click on "Product Order", select the order for the goods you want to ship, and then submit the waybill. Your order status will be changed to "on the way"
After the order has been submitted for shipping, a waybill will be generated. The customer will then be able to choose the shipping method and any additional services.

The system will display the product information you have submitted and will ask for your confirmation before proceeding to the next step.
Fill in and confirm your shipping address, including your last name, company name, contact number, address, city, zip code and country. Then, select your shipping area (Note: Add information must be filled in to avoid errors when shipping the goods).
After selecting your shipping area, please select a shipping method. The shipping methods and their respective fees will be displayed.
You can select any additional services you require to reduce the weight of the goods or to check the goods.
If you have any special instructions, please specify them here. Make sure there are no errors before submitting the waybill to end the process.
When the waybill has been generated, customers will be able to view it in "My Waybill". The status of the waybill will be "pending".
When all orders have arrived (all parcels have been received), the status of the waybill will be changed to "wait for weighing". Please wait patiently for the staff to weigh and provide the weight of your parcels.
When the goods have been weighed, the status of the waybill will be changed to "wait for payment". You will be shown the weight, shipping costs and total shipping costs. If there are no errors, press the "Payment" button to pay the fee.
Before submitting the bill of lading, the system will display all details for your confirmation. When the confirmation is submitted, the goods will be automatically arranged to arrive at the designated location.
When the payment is successful, the waybill status will be changed to "waiting for delivery".
When the waybill's status is changed to "delivered", you will be able to track the package. When the goods arrive, please confirm the receipt to complete the entire process.
2.0 Parcel Shipment Rules & Regulations
3.0 Payment
We support multi-payment gateways, which includes online banking, online transfer and through an ATM. Customers need to provide the "transfer successful message" to us through (a) screenshot(s) by sending or uploading to our website.
4.0 Account
Click on "forgotten password" in My Account and enter the e-mail address that is associated with that account. Then, click "submit to have your password with you". Users should contact our customer service officer if this function fails to assist you.
5.0 After Sales Service
Air Shipping and Sea Shipping
(i) Free warehouse usage: 20 Days (per waybill)
(ii) Calculation of number of days: Starts when parcel is signed for receiving by the warehouse, item is confirmed to be receive and has entered the warehouse management system in the warehouse.
(iii) Calculation of charges: Starts when it is more than 20 days after being stored and weighted in the warehouse. Each order (consignment no.) = RM1.00/ day
(iv) For example: If you require shipping on the 40th day after storage, you will receive a RM20 storage fee (RM1 x 20 days).
* Note:
Parcel/ waybills more than 40 days will be disposed without further compensation.
(Action taken: direct resale or handed over to resources for recycling and donation to charity).
(1) Parcel do not submit & unknown (count from parcel arrived warehouse)
(2) Waybills "Pending payment" (count from Status Pending Payment)
* Please forgive us for any inconvenience. Due to the high operating costs of the warehouse and limited storage space, the implementation of the warehousing service fee is to remind users to not ignore the package after the deadline, as extra fees will be charged.
* Exclude special situation: Warehouse holiday etc.
1.0 In order to fulfill customer's request extra service on parcel handling, we offer the following basic additional services as below:
Fragile sticker
Wooden frame services
Pallet + stretch film
Pallet + wooden frame
Fiber bag/ Woven bag
Carton packed
Packing belt
Label sticker
** Special Note: Please refer to the "Service Fees" page for details of the charges.
2.0 In addition to the basic additional services above, we also offer other special services, please refer the following related service charges:
(i) System spelling or splitting:
Standard charges: RM3.00 / per order

(ii) Replace/modify the shipping address or modify the shipping method:
Edit the shipping address when the package is haven't sent out/ship out: RM3.00 / per request
If the parcel has been sent out/ship out:
  Air freight: RM35.00 / per order
  Sea freight: RM25.00 / per order (this charges only apply to same state, for different state will have extra charge)
*Remarks: This requirement can be requested by phone call to our customer service or writing a note/description when submitting an order.
(iii) Item photo service
Standard charges:
RM1.00 per picture; Photo service may covers inner packaging photos or outer packaging photos
RM5.00 per order; Limit up to 10 photos only
*Remarks: This requirement can be requested by phone call to our customer service or writing a note/description when submitting an order.
(iv) Request parcel return sent back to your merchant
Standard charges:
RM5.00 processing fees + local delivery fees (depending on delivery method used/ courier charges)
*Remarks: service attached with one parcel return consignment note photo (while request return the parcel)
(v) Unpacking and removing sensitive goods
Standard charges:
RM3.00 - RM5.00 / per request
This service contains a photo captured for removed existing parcel item
This service included: open the outer packaging according to the package you specify, then repackage all the items in the same order.
If any items are sent less, our company will not handling any extra request on checking/inspection.
*Remarks: Do not use this service for fragile products.
*Reminder:
Once your request as above parcel handling processing (if any), we not bear responsible for any lost case or damage to the goods after you receive the goods;
** Special note:
If you need the above special services or other services, you may contact our customer service. We will calculate the fee accordingly, all the request will only perform after obtaining your consent/agreements.
(i) Shipping an item to Highland areas (Cameron, Genting, Bukit Fraser etc.), Island areas (Langkawi, Pulau Tioman etc.), outskirts or less populated areas might result in extra fees. (Additional fees depends on each case)
Please contact our customer service for more details : 016-480 0770

(ii) Delivery to door is limited to Ground Floor/ Lobby only, we will not deliver the parcel upstairs. (Delivery to High-rise buildings is unavailable)

(iii) If the customer needs to withdraw cash (take part of the balance in their GIMworld account), an extra processing fee of RM1.00 will be charged.
6.0 Claim
Coverage start from overseas product loaded in container to local warehouse (Malaysia)

For those parcel without purchase Parcel Lost Guarantee, the compensation limit for the lost parcel is according to the item's value on the invoice (up to USD100 or 3 times of the shipping fee whichever is the lowest.
Delivery from local warehouse to customer (small parcel or big parcel that use courier company)

Delivery from local warehouse to customer (small parcel or big parcel that use courier company) compensation is based on local courier company regulations (Pgeon) compensation up to RM200
In case of loss or damage, the compesation fee take from whichever is lower. Lost parcel compensation does not include prohibited item. Learn more at https://www.pgeon.delivery/prohibited-item
(*Please contact our customer service for Parcel Lost Guarantee details)

Air Shipment Parcel Lost Guarantee Fee:
Switch to another shipping method (additional fee) + Parcel lost guarantee (total product price + international shipping fee + other fee) x 3%
Sea Shipment Parcel Lost Guarantee Fee:
Parcel Lost Guarantee = (Total product price + international shipping fee + other fee) x 2%
* Remark:
(1) Compensated for parcel lost only.
(2) Any items breakage, damage, customs detention, confiscation especially fragile items are not within the scope of compensation.
(3) Natural disasters are not under compensated.
(4) Items that were not or falsely declared before shipping was not under compensated.
(5) Lost during delivery/partially damaged by the courier company or transportation company assigned by the customer was not under compensation.
(6) If repackaging is requested, customers will not be able to claim compensation when items are found to be missing during repackaging (including seller sending less items, loss of items during delivery from the seller to GIMworld warehouse, etc.)
(7) Not coverage for East Malaysia Air shipment
Economy Courier Compensation
1. Parcel Lost Guarantee Charges
All Type of goods – 3% on top of PA (No include packing fee)
Min purchase for insurance amount RM 15 per parcel
Maximum coverage = RMB 30,000 per parcel
Customer have to remind supplier to pack the goods properly
Repacking fee bear by customer
Only applicable for West Malaysia
2. Shortage Claim: 80% from Purchase Amount
Service charges bear by customer (depend on case, negotiable)
3. Min Insurance Purchase Amount
4. This compensation only covers for loss and does not cover for damage in transit. Any damage in transit will not be accepted for compensation
Please confirm the condition for the external package (whether there is any damage)


If there is any damage, please do not sign for it and immediately contact us. Please weigh and take photos of the goods in the presence of the driver to inspect the goods.
If you find that the goods are damaged or missing. Please indicate the condition of the goods on the receipt for our further follow-up.
**Reminder: to weigh and photograph the goods and keep a record, regardless of whether there is damage or shortage in the external packaging.**
7.0 Warehouse Operation Hour
China Warehouse Operation Hours
Mon - Sat: 9:00am - 6:00pm
Sun: Off day
Thailand Warehouse Operation Hours
Mon - Fri: 9:30am - 5:30pm
Sat: 9:30am - 1:30pm
Sun: Off day
Indonesia Warehouse Operation Hours
Mon - Fri: 7:30am - 5:00pm
Sat: 7:30am - 1:00pm
Sun: Off day
Taiwan Warehouse Operation Hours
Mon - Fri: 9:00am - 6:00pm
Sat - Sun: Off day